Today it's a real pleasure to introduce Amanda Coffin, editor and proofreader of Dirty Dealings, Helpless, Beast and Deliverance! I may be biassed but I think she's the best! On with the interview...
AJ: Tell us about yourself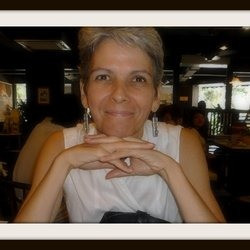 Hello there! My name is Amanda Coffin. I do the majority of my work on Fiverr.com, where
my account name is StylusInk
. If you look at my profile, you'll see that I have two gig offerings - one for generic text and another specifically for erotica. You can also reach me at
stylusink@outlook.com
.
AJ: For romance and erotica writers, finding a proofreader can be a challenge, as they don't do sexy stuff. Tell us: what are your limits?
My erotica guideline is very straightforward: If it involves children or animals, I won't touch it. (I did make one exception for a piece of dinosaur-porn, because I figured no one is going to coerce a triceratops to do anything she doesn't want to.)
AJ: Okay, now we need to know: what are some of the more unusual niche stories you've edited?
In the erotica genre, I edited a series of three non-fiction books written and edited by Betsy Blankenbaker, starting with her own story,
Autobiography of an Orgasm
, and followed by two anthologies about women's orgasm that the initial book inspired-eye-opening, thought-provoking, and running the gamut from heartbreaking to funny.
The step-sibling/step-parent genre seems to be hot now, and I get a lot of stories, both gay and straight, in that category. One of my regular clients is now into "cozy" mysteries, which coat romance and murder with chocolate. Another long-time client is
Edith Hawkes
, and I've enjoyed her ventures into the shapeshifter arena, in which her heroes are prone to morphing into bears.
At the moment, I'm working on the latest in the "North Bay Pursuits" series by
Kenzi Bond
, featuring a US police department comprised almost entirely of luscious gay men. (Hey, it's a luscious break from the real world of police shootings, is it not?)
When it comes to full-length erotic crime novels, my favourites are by AJ Adams. No, I'm not kissing up to the interviewer here-they're really stupendous!
AJ: What's the difference between editing and proofreading?
Excellent question, and difficult to answer succinctly, because the lines blur. Roughly speaking, editing is concerned with the content-what you say and how you say it. Things like pacing, tone, characterization and organization fall into this category.
Copy-editing works at a more detailed level, focusing on sentence and paragraph structure, ensuring that grammar is sound and the text is clear and consistent. It may or may not include fact-checking, link-checking, and so on; discuss those things or any other concerns with your copy-editor.
Finally, proofreading is the nuts and bolts-spelling, punctuation and usage. And no, a skilled proofreader most certainly does not just run a text through an automated spelling and grammar checker! Those devices will not distinguish between palate, palette and pallet. They will not inform you that you've mixed up the names in your dialogue, and they won't fuss about the Oxford comma.
To get a proper job, you need someone who lies awake at night fretting about semi-colon abuse. Hint: Ask any potential proofreader or copy-editor what style guides they subscribe to, and whether they use US or UK standards (or both).
AJ: If we can't work with you, how do we find someone who will do the job right?
Because I do nearly all my work on Fiverr, and Fiverr requires payment up-front, I've heard a lot of grumbles from authors who pre-paid and were dissatisfied with the result. If you've got a lengthy manuscript, especially, this can be a costly mistake. On the other hand, I believe there are many competent editors and proofreaders on that platform, so it's really a matter of finding one whose working style is compatible with your own.
Start by looking at the reviews of course, and when you've identified a few candidates that sound good, send them a small excerpt of, say, 1000 words. Make it plain that you're evaluating their service, and request that they track changes. It's a small investment, probably $5 each, to get a good sense of the editors' abilities and styles.
Proofreading, especially, requires a very different mindset than writing. A good proofreader should be at least borderline obsessive-compulsive and will be more than happy to discuss your concerns and preferences with you. (Just be tolerant if we seem far more concerned about proper comma placement than you are. We can't help it.)